Serving Galveston & Surrounding Areas since 2002

OPERATING 24 HOURS A DAY, EVERYDAY OF THE YEAR!!!

(409)621-5333 or (409)621-JEFF

1(866)533-3222 or 1(866)JEFF-CAB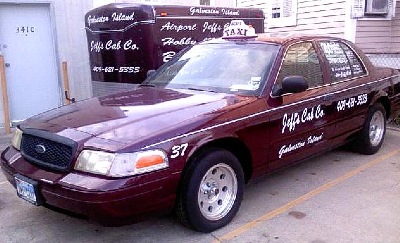 Jeff's Cab's is known for prompt quality service and immaculately clean vehicles inside and out. Our uniformed drivers are always extremely nice and courteous to all customers.

Jeff's Cab's response time, in most cases, is 7 to 10 minutes. Thats if you're calling anywhere from the "east jetties" to 61st street. If you're calling from 61st to 103rd street, our response time is sometimes 15 to 20 minutes.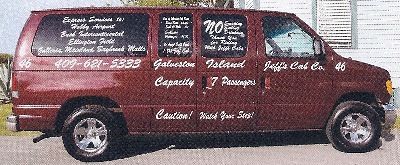 EXPRESS 24/7 TAXI SERVICE (Meaning no wait, other stops, or pickups)

SHUTTLE PICK-UPS & DROP-OFFS AT HOME OR HOTEL (Ask about group rates)

GALVESTON CRUISE SHIP (CARNIVAL, ROYAL & PRINCESS CRIUSE LINE) PICK UP AND DROP OFF

HOTEL PICK-UPS (We pick up at every hotel in Galveston, Tx.)

OUT OF TOWN TRIPS/LONG DISTANCE (All surrounding counties including Harris County, Grimes County, Brazoria County, Chambers County, Waller County, Liberty County, Fort Bend County, Brazos County, Trinity County, Montgomery Coutny. EVEN OUT OF STATE!!! )

TRANSPORTATION FROM TEXAS TO LOUISANA (Ask about our Flat Rates)

OIL FIELD/ PLANT TRANSPORATION

HOUSTON ELLINGTON, HOBBY & BUSH AIRPORTS (ask about our special rates)

GALVESTON SCHOLES FIELD, PATROLEUM HELICOPTER INCORPORATION (PHI), AND ERA TRANSPORTATION

HOUSTON/NASA AREA ATTRACTIONS

HOUSTON AMTRAK TRAIN STATION PICK UP AND DROP OFF

TEXAS MEDICAL CENTER - HOUSTON (Memorial Hermann, M.D. Anderson Hospital for Cancer Research, St. Luke's Episcopal Hospital, The Methodist Hospital, Shriners Hospital for Children, Texas Children's Hospital, Ben Taub General Hospital, Baylor College of Medicine.)

PORT OF GALVESTON PICK UP AND DROP OFF (our drivers are TWIC Certified and can escort on and off the port)

SENIOR CITIZEN/SPECIAL NEEDS (help with grocery bags, etc.)

TEXAS A&M UNIVERSITY AT GALVESTON, GALVESTON COLLEGE, & UTMB STAFF & STUDENT DISCOUNTS

JEFF'S CAB'S ACCEPTS CASH & ALL MAJOR CREDIT CARDS ($10.00 minimum on credit cards plus a processing fee. ID must be present and match the credit card for secruity purposes.)

Jeff's Cab's will meet or beat any reasonable group rate for 3 or more people.

DON'T FORGET TO MENTION "JEFF-30" TO RECEIVE OUR SPECIAL ONLINE DISCOUNT. OR PRINT OUT THIS COUPON AND GIVE IT TO ANY JEFF'S CAB'S DRIVER.

CLICK HERE TO VISIT OUR MECHANIC'S WEBSITE http://WWW.AUTOREPAIRGALVESTON.WEBS.COM